Vintage Fashion Fair in Alameda, California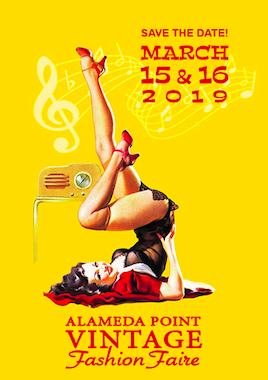 Rock Around The Frock, celebrating vintage rock & roll fashion from every era
Friday, March 15, 2019 6pm – 10pm
Early Buy Shopping and Vintage Rock Style Runway Contest
Saturday, March 16, 2019 11am – 5pm
General Admission
Celebrating popular music and fashion from Rockabilly to Reggae, from Mod to New Wave, from Metal to Grunge, from Punk to Post Rock, and Everything in Between. Come join the party!
Enjoy musical entertainment and cocktails at our famous Friday Night Party featuring our Vintage Rock Style Runway Contest!
Come and experience a vintage fashion extravaganza with 70+ booths showcasing a wide array of women's & men's clothing, couture, jewelry, accessories, textiles, fine linens and more.
Don't miss this exciting event featuring timeless fashion from every decade including the Victorian & Deco eras, the fabulous 40's & 50's, and the glitzy 60's, 70's & 80's inspiring today's fashion designers.