Dublin Market & Bazaar in Dublin, New Hampshire
June 1

-

June 2

$5.00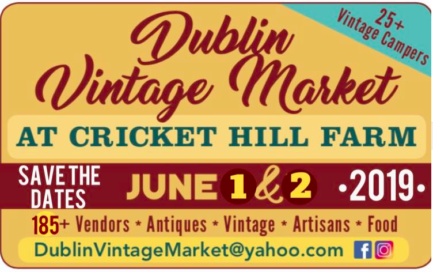 Vintage Label Co., is proud to present the fourth annual; Dublin Vintage Market located at Cricket Hill Farm, Dublin NH
Dublin New Hampshire is set between Peterborough NH and Keene NH. It is a small quaint town full of creative minds, eclectic souls, artists, collectors, great food, fabulous shops in surrounding areas and lots of welcoming positive energy!
We are excited and please to announce that our fourth annual event will be held at Cricket Hill Farm located in Dublin NH by Vintage Label Co. LLC. Most of you know it as, "Dublin's Gas Engine Field" which is located directly off Rt.101. But it's official name is Cricket Hill Farm!!! Home to 26 acres of green beauty, surrounded by a beautiful view of Mount Monadnock, native stone walls, a giant windmill and lots of cool old farm equipment!! It's just dreamy and the perfect canvas to host the one and only show of its kind in New Hampshire.
185+ Vendors
Farm to Table Food Trucks, Live Music, Antiques, Vintage Finds, Repurposed Goods, Salvaged Junk, Artisans, Indie Crafts, Fun for kids, vintage camper & classic truck/car displays!!
June 1st 8:30am to 5pm and June 2nd 9am to 4pm
Rain or Shine
Merchandise & Swag, Giveaways & Raffles, Kids Area, Live Animals, Dog Friendly (leash is a must), ATMs on site
10,000+ in attendance
$5 general admission per customer
FREE parking for customers
Fun for all ages
HOSTED BY: Vintage Label Co; Maria Amarosa and At Home Magazine
CONTACT INFO: Maria Amarosa, mariaamarosa@yahoo.com