Always check in with the market before heading out, check their Instagram or Facebook page to make sure there are no last minute changes due to weather or other circumstances. Enjoy!

Brighton Bazaar Weekend Market
May 15 @ 11:00 am

-

5:00 pm

|

Recurring Event

(See all)

One event on June 26, 2022 at 11:00 am

Free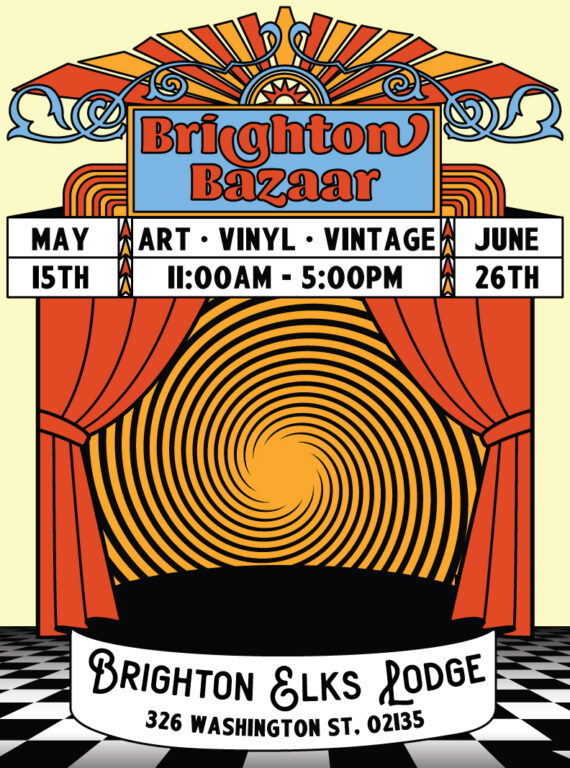 Introducing monthly weekend Bazaars at the Brighton Elks Lodge. All your favorite finds, now at a more accessible time!
12 of the 50 vendors at the 5/15 market will be selling vintage clothing, including:
@uniquely_james
@bitchy.vintage
@charliesellsvintage
@therareindigo
@thrift_daze
@whitewitchvtg
@apple_pickin_vintage
@joseph.cherimoya
@darya.bd
@twoeyesvintage
@livandleothrift
@kicksfliplowell
@alltheragevintage
Whole list of all types of vendors:
@207even
@adas_estate
@aimeebelangerart
@alltheragevintage
@amandabrackillustration
@apple_pickin_vintage
@archienimus_rex @plainboyceramics
@artbyMaryAurora
@asr_art_
@bitchy.vintage
@blueskygoods
@burgerghost
@cafesduarteco
@charliesellsvintage
@darya.bd
@feralfawnart
@gbarceloniceramics
@holy.crow
@IndigoLiz
@joseph.cherimoya
@judge_judd
@kaidenmakeshappystuff
@katiegflute
@kicksfliplowell
@lindsaydemersart
@livandleothrift
@lucideadlimb
@marianneradnitzky
@milkeyedmarket
@neptunas.crown.collection
@nosegoescandles
@poppynomad_
@projectleafcare
@red.winged.designs
@sarshaha
@scissors_clay
@shelbylynnlives
@soharadraws
@sparkletown.studios
@sparkwithart @minimcgirl
@stonefruitjewelry
@studio.seespriya
@the_butterfly.effect.co
@the.yawning.portal
@therareindigo
@thrift_daze
@twoeyesvintage
@uniquely_james
@whitewitchvtg
poster by @colinmoran_
The bazaar can be entered from both the front of the lodge at 325 Washington St., and the parking lot entrance at 17 Winship St.
Transportation: The Brighton Elks Lodge is right in front of the Waldo Terrace bus stops on the 57 line, and there is a large 100 car parking lot behind the building at 17 Winship St.
Weather: This market will have both indoor and outdoor sections. The indoor section will still take place if it rains.
Pets: we're friendly if they are!
Food/Beverage: Washington St. in Brighton is full of delicious places to eat and drink. We particularly recommend Los Amigos Taqueria, Cafenation, Bodega, and Pika in the immediate vicinity.